Character Counts...at Indian Springs!

About Our Guidance Program

Character is what a person is on the inside. Our character is revealed by how we act when we think no one else is looking. It is how we treat people who we think cannot help or hurt us. A person of good character has good ethical values that distinguishes right from wrong and have a strong commitment to do what is right even when it is inconvenient, uncomfortable or personally costly.

The guidance program at Indian Springs Elementary School allows students to explore the concept of developing good character. We do this by examining the Six Pillars of Character: Trustworthiness, Respect, Responsibility, Fairness, Caring and Citizenship.

During classroom guidance lessons, students can earn character coupons when they exhibit responsible, respectful behavior. If a student receives a coupon, the coupon will need to be filled out and returned to the counselor's room in the appropriate box for his/her grade level. Each month, names will be drawn and students will have the opportunity to have a fun afternoon with the counselor!

If you have any questions or guidance concerns, please do not hesitate to contact me (251)221-1436.
Melissa Haddix, M.Ed, NCC
Professional School Counselor
Indian Springs Elementary
Excellent in Every Way Every Day
Learning Today. Leading Tomorrow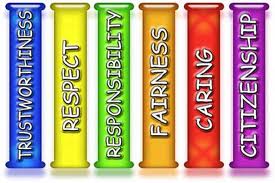 Trustworthiness:

Trustworthiness means living with integrity, being honest, reliable and loyal.

Respect:

Respect means treating others the way you want to be treated, being polite and discussing problems.

Responsibility:

Responsibility means being accountable for your actions, pursuing excellence and using self control.

Fairness:

Fairness is playing by the rules, taking turns and sharing.

Caring:

A caring person is compassionate, considerate and unselfish.

Citizenship:

Citizenship is doing your share to make your school and community a better place.